Head of Department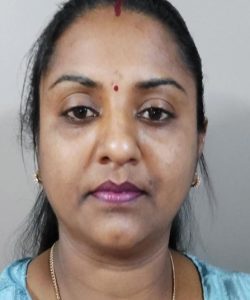 Department Vision-

To inculcate in students the skills needed for worthwhile living.
Department Mission-

To provide a peaceful and resourceful environment that promotes the development of

competent and skillful students.
Home Economics plays in preparing young people for the challenges of modern life. There are many good reasons why Home Economics should be taught in schools.
Firstly, Home Economics provides a unique opportunity for students to learn about the practical aspects of running a household. This includes learning how to budget, how to cook nutritious meals on a budget, and how to care for clothing and other belongings.
Secondly, Home Economics also teaches students essential life skills such as time management, organisation, and communication. These skills are essential for success in any area of life.Home Economics also promotes healthy living. Students who learn about nutrition and exercise in a Home Economics class are more likely to make healthy choices in their own lives.Thus, Home Economics is not only a subject in great demand at present but prominently serves in the holistic education of each child.
The department is blessed with three dynamic teachers fully qualified teaching 185 students from year 9 to 13.
1. Mrs. Rajnita Devi Lal -Year 10A, 10E, 12C, 13A/B
2. Miss Arti-Year 9B, 9C, 9E, 10B, 11E
3. Mrs Shivani Swastika Mani-Year 9A, 9D, 9F, 10C, 10D
The students undertaking the subject have shown a keen interest in the subject content, practical work such as CBA / CAT and activities organised by the department (TEST week/enterprising activities).
I Rajnita Lal, Head of Department would like to acknowledge Miss Arti and Mrs. Shivani Mani for being very enthaustic and hardworking teachers for the department. Throughout, with the assistance of dedicated teachers, the department has progressed and achieved good academic results.I would also like to thank the school management, school administrators and other HODs and staff members for continuous support towards overall success of the department.
Our department endeavors to provide best professional opportunities to our students and look forward to their bright future. We as a team resolve to take the department to heights of success and glory and prepare for the forthcoming challenges. The objective is to empower our students with latest technical knowledge and skills by providing them with the best teaching faculty, lab facilities, excellent development environment and excellent infrastructure.
Computer Science is the most flourishing discipline that cultivates at the crossroad of new trends in computer science. It provides the most demanding skills one can learn to excel in his/her profession. Our department is committed to excellence in teaching, skilling and inculcating a sense of pride and confidence in our students.
Our Teachers